Choosing a cleaning service for your Virginia Beach home.
Virginia Beach is a booming city within the greater Hampton Roads area, and with its gaining popularity amongst Virginia residents, many are deciding to call this city home. Because of its large size, the options for home cleaning businesses may feel overwhelming for local residents. But Lavender Maid sets itself apart from the rest through important characteristics that will make your decision easy. Below are our top 3 reasons why you should choose Lavender Maid to service your Virginia Beach home over other larger-name cleaning services in the Hampton Roads area.
1. Trustworthiness
Lavender Maid is a boutique, woman-owned small business, and as such, you can trust that your home is in good hands. When you hire us, you know that you're inviting people into your home who will treat it with the highest respect, and also provide the highest quality service. That's because we treat cleaning your home as if it was us taking care of our own homes – and that's something you can't be promised from a big-name competitor!
2.Curated Cleaning
Because of our personal touch and personal investment in the successful cleaning of your home, we're able to perfectly curate your cleaning services to your needs. We have many services available designed to fit the needs of your home. If there's individual concerns or specific areas you'd like us to focus extra on – we're simply a phone call away!
3.Customer Service 
Alongside the features listed above, Lavender Maid sets itself apart from the rest because of one vital characteristic: we truly want to make sure you're completely happy with our services. We cherish our client relationships and understand that your satisfaction is paramount. Instead of being just another number in a large client pool like you would be with a larger Virginia Beach cleaning company, at Lavender Maid, you're so much more. We promise to go the extra mile to ensure that your home is your safe space, where you can come home after a long day of work to unwind and relax.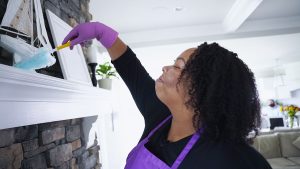 The holiday season teaches us to take a moment, be present, and enjoy the company of family and loved ones. It's a time when we invite those closest to us into our homes and shower them with love and kindness. Allow Lavender Maid to oversee your Virginia Beach home's cleaning, and by doing so, you can focus on what truly matters this season. Contact us today!