3 Tips for Choosing a House Cleaner
Because a larger majority of us are now working full-time from the comfort of our homes, we can easily find ourselves becoming more overwhelmed than ever by keeping our houses clean. With more daily use of our homes comes a greater effort to stay on top of cleaning tasks. Avoiding the added stress of this responsibility is as simple as hiring a professional cleaning company to help … not so easy is finding the best cleaning company for the job!
Below are our 3 tried-and-true tips to make sure you are making the most informed decision when deciding who to hire and who to trust in cleaning your home.
1. Word-of-Mouth & Google Reviews
The best way to understand if customers have a pleasant or positive experience with a cleaning company is to hear from them directly! By asking your closest friends or trusted community members, you can often find recommendations for services that you can truly trust because these people are going to be candid with you about their experience with a company.
Google also allows for the a myriad of customer voices to be heard. A quick search online will present these first-hand reviews so you can accurately determine whether the majority of customers share a positive or a negative experience with a cleaning company.
Take a look at our Google Reviews today!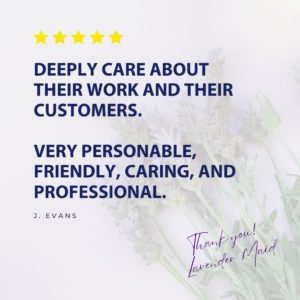 2. Trust is Key
Alongside listening to the majority customer experience, you certainly want to hire a cleaning company that you can personally trust. After all, you're inviting them into your family's home where your most prized possessions and valuables are, and where your family feels most safe. The last thing we want is for that privacy and safety to be invaded in any way.
To avoid an opportunity for a negative experience, be sure to speak with or even meet in-person with a cleaner before welcoming them into your home. Ask them what their company values are, their guiding principals of business, and if you want to be extra thorough, ask for references! If a cleaning company is trustworthy, they'll have a dedicated clientele that's eager to sing their praises if asked by a potential client.
3. Small Businesses Outshine Larger Corporations
Larger cleaning corporations will advertise discounts and low pricing to get clients to sign, but the price you pay with these companies is being one of a many, and you're often seen as replaceable and just a number.
By hiring our small, family-owned business, Lavender Maid is able to provide you with a personal relationship and unmatched attention to detail. You'll know our names, be able to contact us easily, and discuss with us freely the services you need in your home. Simply put – you'll get a customer-first experience and feel valued and heard from day one, because we care for our clients like they are our own family!
If you're in the Hampton Roads, Virginia, area, know that we at Lavender Maid are your trusted house cleaning company, and we're eager to help create a clean, organized and welcoming space for you and your family to enjoy, stress-free! Give us a call today at 757-304-6209 or text us at 757-324-1881 to learn more about our available services and how we can get started.